Plano PRO-MAX Pillared Single Scoped Gun Case
The Plano PRO-MAX pillared single scope rifle case provides maximum protection for your scoped long gun no matter where you take it. It feature's Plano's patented PillarLock system that ensures a tight seal with a durable, crush-resistant exterior is roomy enough for scopes with a large objective lens.
Other features include:
EXTERIOR: 53.63″ X 3.75″ X 13″
INTERIOR: 52″ X 3.75″ X 10.25″
Interlocking foam
Comfortable molded-in handle
Lockable casing
Airline Approved
Related Products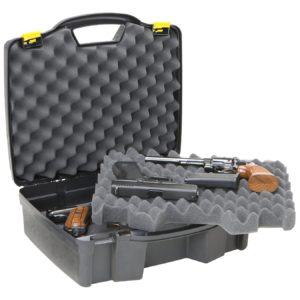 Plano 1404 Protector Series Four Pistol Case
If you're looking for a quality pistol case but don't have much to spend, then the Plano 1404 Four Pistol Case is just what you need. It stores up to four handguns in two layers of protective foam. There's plenty of room for accessories too. The heavy-duty latches stay shut tight, and the thick-walled construction will keep inventory safe through plenty of banging and bumping.
Other features include:
EXTERIOR 16.75" X 6" X 14.5"
INTERIOR 16.25" X 5.75" X 11.325"
Molded-in handles
Three layers of high-density foam
Padlock tab
Interlocking foam
Plano's limited lifetime warranty
not rated
Buy Now