Pelican 1700 Long Rifle Case
The Pelican 1700 Protector for long rifles gives your rifle the ultimate protection. As one of the leading manufacturers of protective cases, Pelican gives you watertight security that you can take virtually everywhere so you can be assured that your firearms will remain safe and functional throughout your travels.
Features include:
Automatic pressure equalization valve
3-piece foam set
Stainless steel reinforced hinges and padlock protectors
Watertight, crush-proof, and dust-proof
Easy-open double-throw latches
O-ring seal
Interior: 35.75"x13.50"x5.25"
Exterior: 38.12″ x 16.00″ x 6.12″
Related Products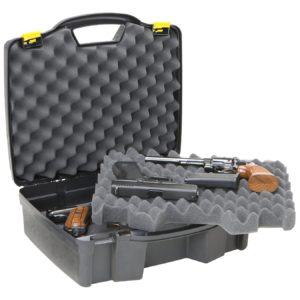 Plano 1404 Protector Series Four Pistol Case
If you're looking for a quality pistol case but don't have much to spend, then the Plano 1404 Four Pistol Case is just what you need. It stores up to four handguns in two layers of protective foam. There's plenty of room for accessories too. The heavy-duty latches stay shut tight, and the thick-walled construction will keep inventory safe through plenty of banging and bumping.
Other features include:
EXTERIOR 16.75" X 6" X 14.5"
INTERIOR 16.25" X 5.75" X 11.325"
Molded-in handles
Three layers of high-density foam
Padlock tab
Interlocking foam
Plano's limited lifetime warranty
not rated
Buy Now