Plano Gun Guard FL Single Rifle/Shotgun Case
If you own a shotgun, muzzleloader, or black powder rifle, then the Plano Gun Guard FL Single Rifle/Shotgun Case may be just what you're looking for. The oversized interior offers plenty of room for your firearm, and the internal storage compartment is spacious enough for choke tubes, bore snakes, and even a tube of SQCG.
Other features include:
Interlocking foam
Bail-style latches
Padlock tabs
EXTERIOR: 53.5″ X 5″ X 10″
INTERIOR: 52.75" X 9" X 4.5"
Related Products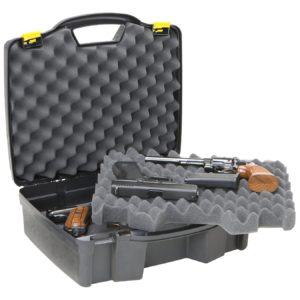 Plano 1404 Protector Series Four Pistol Case
If you're looking for a quality pistol case but don't have much to spend, then the Plano 1404 Four Pistol Case is just what you need. It stores up to four handguns in two layers of protective foam. There's plenty of room for accessories too. The heavy-duty latches stay shut tight, and the thick-walled construction will keep inventory safe through plenty of banging and bumping.
Other features include:
EXTERIOR 16.75" X 6" X 14.5"
INTERIOR 16.25" X 5.75" X 11.325"
Molded-in handles
Three layers of high-density foam
Padlock tab
Interlocking foam
Plano's limited lifetime warranty
not rated
Buy Now